The Top Importer of Armored Cars in the world
According to Product Complexity Index (PCI), Armored Cars are the 695th most traded product and 303 rd most complex product in the world. As per the reports released by OEC in the year 2017, Afghanistan ($331M) is the top importer of Armored vehicles in the world followed by United States ($269M), Australia ($217M), Indonesia ($137M) and United Kingdom ($78.8M). It is quite interesting to point that in Afghanistan, Armored Vehicles are the second most imported product after wheat.
The use of Armored vehicles has increased a lot in Afghanistan to ensure the safe transportation for military, civilian and government personnel operating in conflict zones and unsafe areas. In addition to that Armored Cars have become a necessity for the transportation of VIPs visiting and residing in Afghanistan, hence there is a huge demand for the luxury armored vehicles and vip armored vehicles too.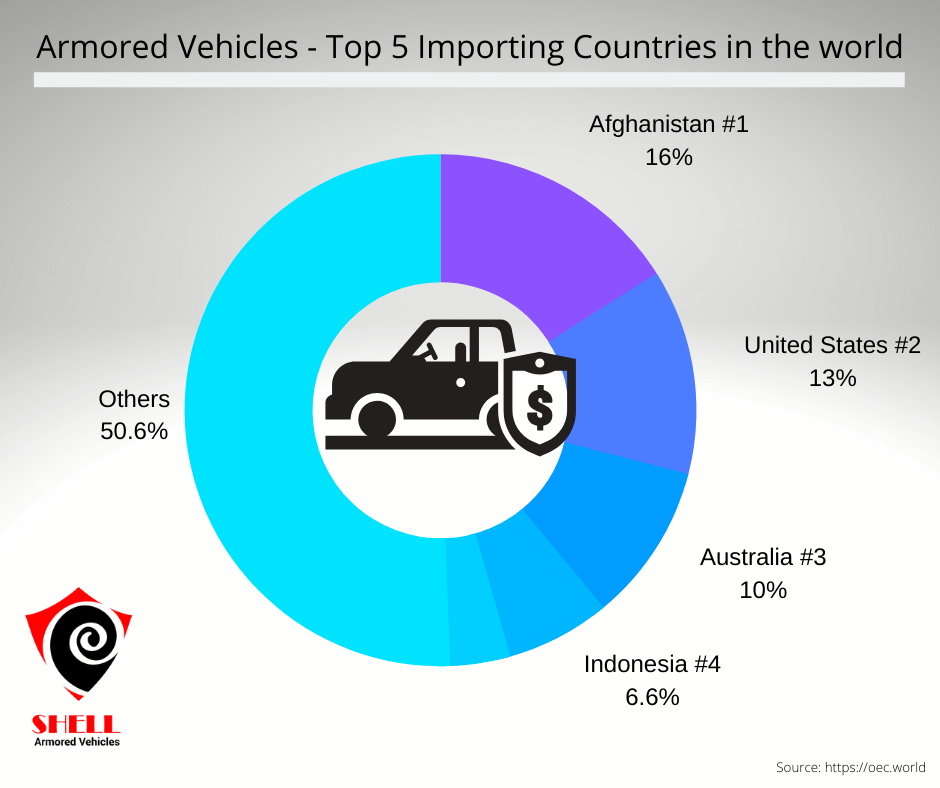 United Arab Emirates is the major hub in the Middle East World, manufacturing wide range of Armored Vehicles and importing to Afghanistan. There are a lot of Armored vehicle manufacturers in the UAE, but you should be extremely vigilant while choosing the right Armored Vehicle Company.
Shell Armored Vehicles is a premium armored car manufacturer based in United Arab Emirates, customizing and supplying wide range of armored cars and bulletproof cars to Afghanistan. We are really proud to export high quality and premium Armored vehicles to the country which has bagged the title of the 'No:#1 Importer of Armored Vehicles in the world'. Armored Toyota Land Cruiser is our hottest seller followed by Armored Lexus LX570, Armored Jeep Cherokee, Armored Toyota Fortuner, Armored Pickups, Armored Bus, Armored Passenger Transport, Armored Cash-in-transit etc. We can armor your car at affordable budget ensuring no compromise in your safety. Reach us through WhatsApp +971555325282 or Mail to sales@shellarmoredvehicles.com